A step-by-step guide to downloading and installing Arduino Software. We will discuss two common methods. The first method is for non-admin users or if you don't want to install the software. The second method is for the admin user or if you want to install the entire Arduino Software.
Method One– Arduino Software Download
Step-1
Go to the official website of Arduino software to download. And scroll down till you get the following screen, as shown below. Then, click on the Windows ZIP file (for non-admin installation). Here, a circle is marked on the image.
The next page is Contribute to the Arduino Software. If you want to support Arduino Company you can donate some money and download or click on just download. Your download will start, right after you click on any option.
Step-2
Open your Download folder or navigate to it. Then, extract the compressed file and you'll get a folder name (Arduino-1.8.xx-windows). Open this folder and double click on Arduino Application.
If everything has gone well as per the steps, then a screen will appear like the one attached above.
Method Two
The second method is slightly different and has multiple steps. But this is the most recommended method for beginners.
Step 1
Go to the official website of Arduino and click on windows installer, for Windows XP and up. On the next page click on just download, as explained above.
Step 2
Navigate to the download folder and double-click on the Setup. Arduino Setup: The License Agreement window will pop up, then click on I Agree.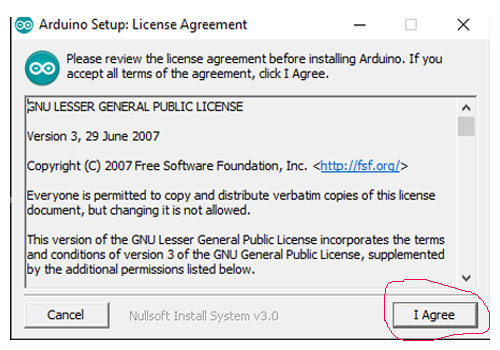 The next window pop-up will be Arduino Setup: Installation Options, click on Next.
Then, the next window will be Arduino Setup: Installation Folder. In this window, you can choose your desired location or just click on Install. It will install on the default folder of your computer.
After installation, click on the Close button.
An Arduino IDE shortcut is created on your desktop. Now, double-click on it.
once, your setup is complete, you can enjoy the software.
Read about India's first interactive art installation
Note:- If you are using Windows 7 or Windows XP, the drivers must be installed manually. Otherwise, your computer will not detect Arduino.